Camping Trip Checklist: How To Pack The Right Way
4 min read
Gear
We've got the handy guide to make sure you don't forget a thing, so you can make the most of the great outdoors!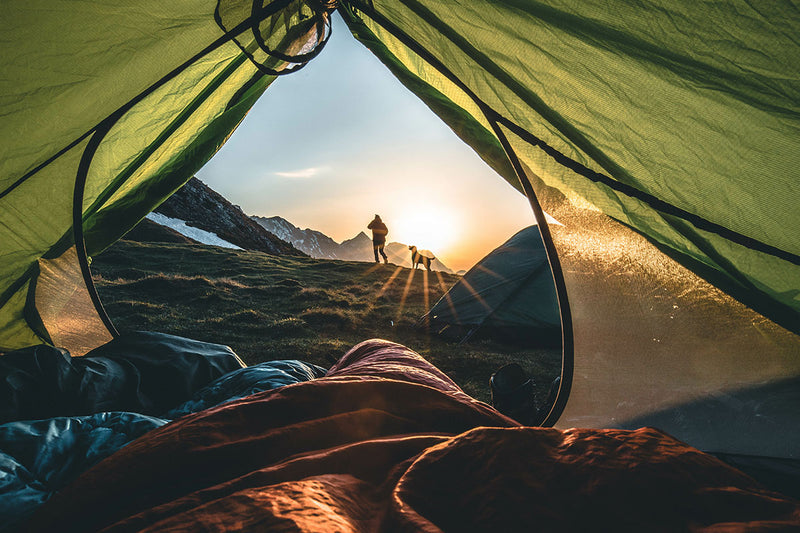 Whether it's your first time camping, your first trip in a while or you camp every weekend, packing for an exciting adventure can often feel overwhelming. But don't worry, we've got a handy guide to make sure you don't forget a thing, so you can make the most of the great outdoors!
Plan then pack
One of the most common mistakes is trying to plan and pack at the same time. If you've ever been camping and forgotten the lighter for your stove (true story), or left the toilet paper at home (another true story), you'll understand that these processes should be kept separate. Before you attempt to cram your life into the trunk of your car, make a list and gather all your gear before packing anything. 
Get organized 
The first step to becoming a pro at packing for camping trips is to have a system. Now you don't have to reinvent the wheel here, adventurers like you have been doing this for years so why fix what isn't broken?
The best way to start to plan your packing is to break your trip down into categories such as cooking, sleeping, clothes, activities, toiletries, and first aid. Go through your trip in your mind from hour-to-hour, and think about what you plan to do.
Once you have all your categories, you can even make some subcategories to really refine your plan. Let's take a look at each area a little more closely.
1. Sleeping
So the first thing you are probably going to want to do when you arrive at your campsite is to set up your tent. Have a think about everything you are going to need for the night. Different people have different levels of comfort when camping, so remember it's totally okay to add your own personal essentials to this list.
Tent (with pegs and guy lines)

Tarp and bungee cords (for those intense summer storms)

Sleeping bag

Pillow 

Sleeping mat, inflatable mattress, or camp bed

Eye mask
2. Cooking 
By the time you've set up your tent, you're probably going to be pretty hungry, so it's time to make some food. What is your ideal kitchen setup and what does it contain to create your perfect gourmet camping dinner? 
Photographer: Anna Paxton
3. Food
Right so you have your dream outdoor kitchen set up, now you need some food to fuel your adventure! Obviously, this one depends on a lot of personal factors such as the number of people, dietary preferences, and how long you will be camping but here is a list of some ideas to get you started. 
Breakfast
Muesli with milk and fruit (try heating the milk and adding a spoonful of peanut butter for extra flavor)

Toast with eggs

Coffee & tea

Juice
Lunch 
PB&J sandwiches 

Ham and cheese salad wraps 

Goats cheese and red pepper bagels
Dinner 
Pasta with pesto and fresh tomatoes

Rotisserie chicken with salad 

Steak burritos 

Instant noodles with stir fried vegetables
Snacks
Fruit

Muesli bars

Nuts

Marshmallows 

S'mores
4. Clothes
It's probably getting chilly now so it's time to look for some more layers. Remember that even when it's summer, you can never trust the weather and if you're outdoors all day, you are going to get colder than normal. Here's some life advice, if you're car camping and aren't super concerned about weight, pack more warm clothes than you think you need (but don't go crazy). Here are some things to remember: 
Day clothes 
T-Shirts

Pants

Shorts

Socks 

Underwear
Night clothes
Pyjamas 

Thermal bottoms

Thermal top
Outer Layer
Warm mid-layer (or two) 

Waterproof shell jacket 

Waterproof pants (if needed)
Other
Woolly hat

Gloves

Sun hat

Sunglasses

Camp shoes (sandals or flip flops)

Towel
5. Toiletries 
Time to get ready for bed, this is where a lot of people go wrong. It's so easy to forget that when you're camping, you still need to use the bathroom! 
Toilet paper (!)

Toothbrush and toothpaste

Soap 

Deodorant 

First aid kit 

Insect repellant 

Sunscreen
6. Activities
Have a think about what you plan to do while camping. Whether you have a whole adventure-filled trip planned, or you simply want to hang out by the campfire. You might need something specific that you don't want to forget. Here are some common ideas…
Camp chairs

Gazebo/sunshade

Pack of cards

Camping lantern

Bikes

Inflatable boat 

Sports equipment (frisby, soccer ball etc)
7. Miscellaneous 
This list often grows as you pack but don't forget the in between moments like when you need to go to the bathroom at night or want to snap some photos. 
Torch and lanterns

Powerbank 

Phone charger
One last pro packing tip
Start with your largest items, pack them on the bottom of your trunk, and much like packing for a backpacking trip, fill in all the gaps as you go with whatever shapes you have available. If you're really tight on space, use the more squishy items like sleeping bags and pillows to cram into the seemingly impossible nooks to fill.