For the Love of the Ocean: Fish Stories from the Oregon Coast
Jeff Shapiro takes us along on a recent fishing adventure on the Oregon coast, which ends with a a delicious meal cooked over the campfire on his WG Grill.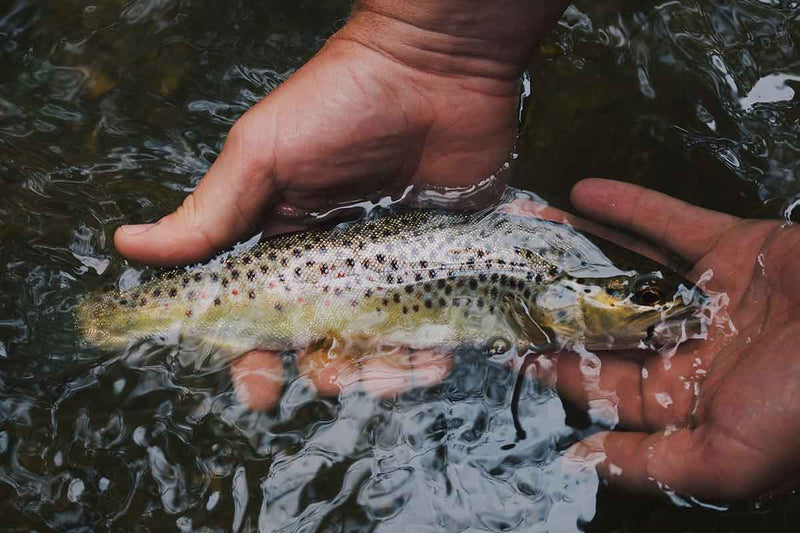 With my family's recent move from Montana to the Oregon coast, we came up with a list of "life goals". Mostly, just things our family associates with opportunities living on the coast can provide. One of the top lines on that list is to eat more fresh seafood and to do our best to responsibly harvest our meals from the ocean ourselves. Again, the proverbial "healthy body, healthy mind, healthy lives".
What the ocean can provide has always made my favorite meals. On top of being delicious, fish and other seafood are a source of long-chain omega-3 fats and are also nutrient rich in vitamin D, B2 (riboflavin), and selenium. Seafood is also packed with protein, and very low in saturated fat. Recently, I read online that "there is strong evidence eating fish or taking fish oil is good for the heart and blood vessels. An analysis of 20 studies involving hundreds of thousands of participants indicates that eating approximately one to two 3-ounce servings of fatty fish a week—salmon, herring, mackerel, anchovies, or sardines—reduces the risk of dying from heart disease by 36 percent". But most of all..... it's freakin delicious!
Another factor (as I've mentioned before) regarding the decision to move to the coast clearly had a lot to do with a love for the ocean itself, and with my desire to learn more about it's dynamic traits. I'd spent more than half my life living and playing in the sky and the mountains. Clearly, there are still many lessons to learn flying and climbing but if I'm honest, I would say I feel very comfortable in both arenas. The ocean however, is another animal altogether where vulnerability is obvious and unknowns assured. Simply put, there are lifetimes to experience. Yes, harvesting seafood saves us money, is a healthy lifestyle choice but also, it creates an opportunity for exploring more of the cold, green water on this raw coastline. For me, more than anything, that inspires.
So, when a good friend (who lives about an hour north of us) texted asking, "You wanna go on a Salmon fishing adventure tomorrow?", YES was obviously my reply.
Oregon Coast, Photographer: Jordan Steranka
In 2016, I got to sail from Cape Town, South Africa to Northern Brazil on the infamous "Wizard's Eye" and memories of fishing during that crossing were running through my head while driving up the coast. Living in Montana, I'd spent plenty of life walking creeks and rivers with a fly rod but, there is something special about fishing from a jet ski while trying to find synch with the waves, wind and swell. Pulling into my buddy's driveway, wetsuit in hand, we quickly hooked up the ski trailer and loaded the rods. I could tell he was excited to head to the bay and his psyche was contagious. I must admit, dawning my 5/4 surf-suit as "proper angling attire" made me feel like this was going to be my kind of fishing.
The water across the bay was smooth, the power of the surf-inspired jet ski startling. It was pretty rad cruising that fast on our way out to sea. But as soon as we cleared the protected zone, the wind and storm generated swell forced us to fall into a rhythm that only the ocean can dictate. I was impressed at my friend's skill, cutting in and out of the waves while sliding through pockets of chop like a boss. Seeing the end of the cape appear through the clouds and spray ahead, we slowed to a stop and rigged up to get our lures in the water.
With the first pole set up, we dropped it in the water to keep it from getting tangled. The jet ski was bobbing in the swell and the combo of the line weights and lures were a spinning mess. While rigging the second rod, the first, merely 10 feet of line out, bent to life with the telltale song of a stripping reel. I was so excited I nearly jumped off the ski like a calf wrestler at a rodeo to grab the salmon as it darted around the boat. Instead, my buddy quickly stowed the 2nd rod and I reeled in the beautiful fish for him to put in the cooler. 1st nice keeper, exactly 10 seconds! Alas, the 2nd fish wouldn't come so easy but after getting both poles set up with rigging in the water, lines out to the proper length, we trolled crab pot lines and seamounts, getting several "strikes", losing a few close to the boat, before finally hooking up to another beautiful and legal Coho. Although there's a 2 salmon per person limit, we felt that one each, combined with the increase in wind and swell, made heading toward shore, grateful for what we had, a good choice. It had been a cool adventure and there was still plenty of work ahead.
Cleaning the fish, filleting into perfect cuts and bagging them up to take home gave that sense of "earning" it. Yes, the adventure was priceless but, bringing home food to my family, and having the opportunity to feel thankful to the fish and for what the ocean provided felt like a confirmation of sorts, that fishing that day was part of a natural timeline of this new life on the coast. The smiles I saw on Kara's and my daughter Nya's faces when I got home with riches in hand confirmed it.
So, fillets in the freezer with one left out, our last task for the day was to head to the beach to build a fire. After all, cooking a fresh salmon fillet over a fire with the sound of the waves in the background made for a perfect conclusion. When the fire was raging and our faces were warm from the flames, we laid ears of corn from the Saturday market in the rocks around the heart of the fire. I moved what was left of the logs aside and quickly and easily assembled the Wolf and Grizzly Grill. Seeing that fish sizzling over the grill was almost as good as eating it. Almost!